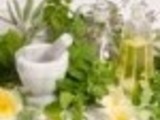 Tasmania has long been known as the "Apple Isle" not only because of its shape but because apples were once a major export. Give this apple recipe a try!
Directions
Cream butter and sugar together thoroughly. Add egg and both kinds of flour and mix well.
Line the bottom of an 8" x 8" pan with half the mixture.
Add a layer of stewed apples and sprinkle with cinnamon.
Roll out remainder of dough mixture and cover the apples.
Cook slowly until golden brown.